Needing a 24-hour plumber in Dublin is not something you definitely want to be looking up. But you can at least rest assured that you will be receiving the best service throughout Dublin no matter what time you may need to call Fit My Boiler.
Whether it is an emergency plumber you need or simply an issue you need rectified in the early hours, you can get in touch with Fit My Boiler any time of day or night.
We have worked on leaking pipes, blocked toilets and freezing radiators so don't worry about the issue that you have, we have seen it before.
Our 24-hour plumber service in Dublin will put your mind at ease.
Know your plumbing problems will be sorted in a matter of hours whether its night or day.
So, if you have a guest bathroom that needs fixing, cold radiators during winter or an unexplained leak, get in touch with our team and we will get a crew to your property as soon as possible.
Why Fit My Boiler?
Fit My Boiler is primarily a gas and oil boiler installation service, but our experienced team have well over two decades of plumbing experience serving the people of the north and south of Dublin.
We bring experience, professionalism and ability to every job we undertake. We work with old and new boiler plumbing systems, the latest and most well-respected manufacturers and more often than not you will find us working away with a smile on our face.
24-hour plumbing requirements in Dublin are essential for comfortable homes and businesses. We understand that problems can at the most unwelcome hours and that is why we are happy to help out when you need us.
Plumbing issues left untreated can be a financial headache. We aim to take care of these issues with our 24-hour plumbing services in Dublin.
Relax knowing we will stop major financial losses, will have your home back to being comfortable and take care of your plumbing problems in the quickest manner.
Our 24-hour plumbing services include:
Repairing and installation of gas and oil boilers
Conducting extensive testing and servicing of your plumbing network.
Repairing leaks.
Finding problem areas and remedies.
Shutting off and restarting water supply to your home and business.
Supplying safety and compliance testing.
Removing blockages.
A 24-hour plumber in Dublin and what we can do in that time:
You will know from our name that boiler installation and repair is at the core of the services that we provide.
We can visit your property to assess the state of your boiler. Aid you in choosing the right replacement that will work best for your home and budget and have it installed on the same day.
Our team can remove your old boiler, including all unnecessary pipes, parts and faucets. We will help you choose a boiler from our quality selection of suppliers and have it fitted with minimum fuss to you or your property.
We will remove all old parts for recycling.
This can all be taken care of in a matter of hours. With an experienced and professional team, we take the hassle out of major jobs and ensure you get a quality service.
Our other 24-hour plumbing solutions are a simple matter after this, and we do our best to minimise your disruption while we take care of the plumbing issues that you have.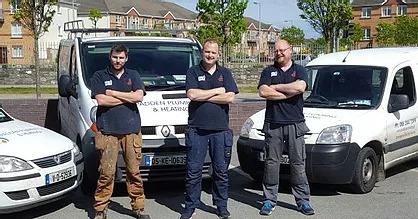 In need of a 24 Hour Plumber in Dublin??  Contact Fit My Boiler today…
Get in touch with your trusted 24 Hour plumber in Dublin today. Our line is always open, and we are here to serve the people of Dublin and surrounding counties.
Operating 24 hours we can have a team to your home or commercial property as soon as you notice an issue.  You can reach us direct on 0862447399, email info@FitMyBoiler.ie or complete our online Emergency Plumber contact form.