When you choose to work with the Fit My Boiler team, you get experienced trade professionals and our knowledge, know-how, and trusted suppliers. In addition, we work with a select few trusted gas and oil boiler manufacturers. This ensures every unit we install is highly rated, tested, and manufactured.
One of our trusted suppliers is a Grant
Grant has been manufacturing home heating systems for over 40 years, with the latest appliances focusing on renewability and energy efficiency.
As a result, Grant Oil Boilers are some of the best on the market. They are incredibly energy efficient, continually rank high in customer reviews, and are much easier to maintain than older models.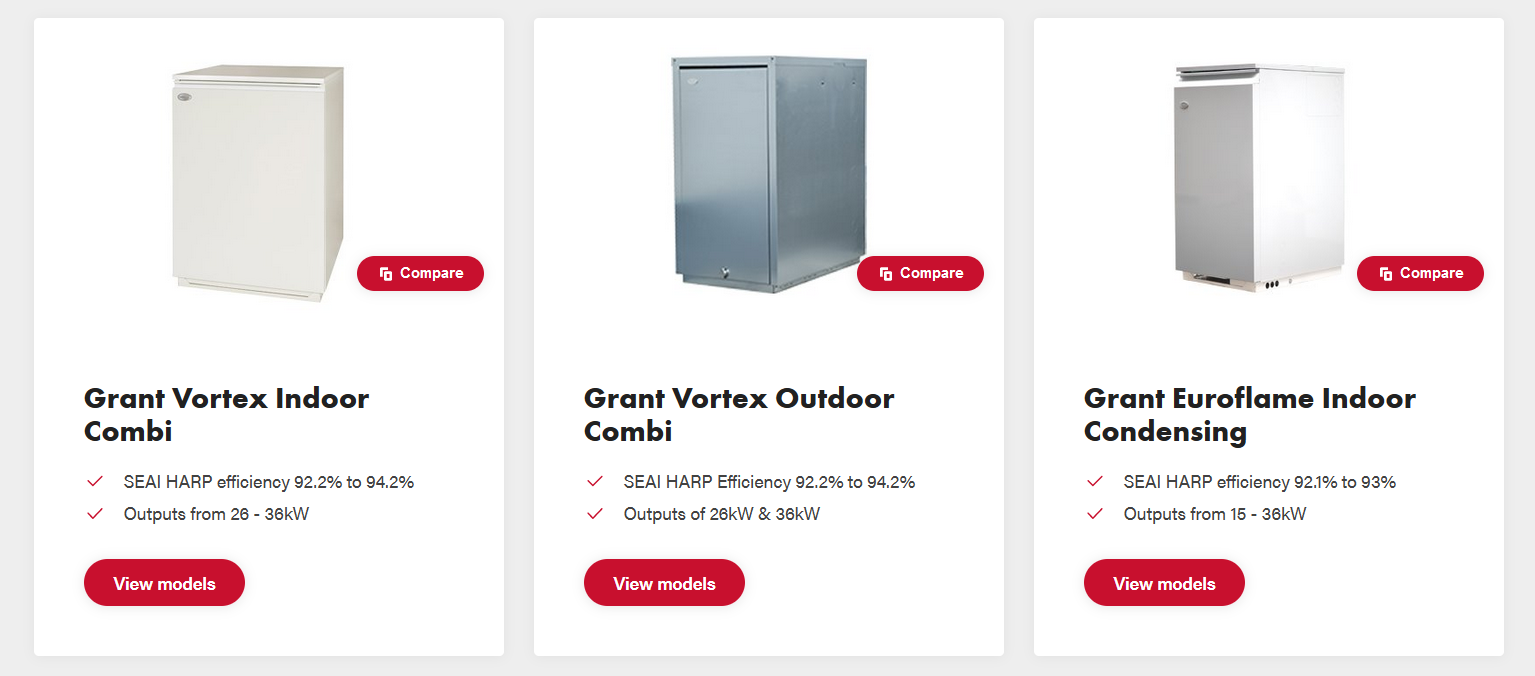 Why we supply Grant oil boilers:
Grant has been producing high-quality heating and energy states for over 40 years. They have continually upgraded and innovated, making them appealing to the Fit My Boiler team.
Their range of over 22 combi and regular units is ideal for homes of all sizes throughout Dublin and Ireland. We aim to provide a one-stop shop for experience, expertise, and quality. By supplying, installing, and outfitting Grant boilers, we can continue to do that.
While we can recommend Grant and a number of our boiler types, the final decision is up to you. However, there are a few things you should look for when purchasing a new boiler, and that is not just the price.
What to look for in your new boiler:
Quality output rating:
If your current boiler is outdated, not heating properly, or your home is suffering from high costs, it's essential to invest in an oil boiler that will meet your heating and hot water demands. Grant Boilers have an output of 15 – 70kW.
Efficiency:
Grant boilers are incredibly energy efficient. They will produce more heat with lower energy usage, meaning you get more bang for your buck. With rising energy prices, it's more important now than before to have an efficient unit that will last you long into the future.
Warranty:
All boilers should come with a warranty attached. In the unlikely event you need to redeem this, understand Grant and the Fit My Boiler team will deal with any issues that may arise from a fault.
Finally, the Price:
The price of a Grant boiler in Ireland, while not the most costs effective, will outlast many other units. The price of a grant Boiler in Ireland ranges from €1400 to €3000. The price will depend on the size, installation difficulties, and other factors.
It's important to factor in the high quality and long-term savings you will make from your Grant boiler. The team at Fit My Boiler will do our utmost to ensure you get the highest quality in your budget range.
It's also important to look into home heating grants. You may be eligible for additional funding should you wish to change your boiler unit.
Get In touch with Fit My Boiler today and get a quotation for a new Grant oil boiler in Dublin and Ireland:
If you are considering updating your boiler system, then get in touch with our team today. We can walk you through the many benefits of your Grant boiler, its costs in Ireland, its breakdown, and any other questions you may have.
If you have further questions about your home heating systems or the costs of installing a new Grant Oil Boiler in Dublin or Ireland, call us today on 0862447399 or email, info@fitmyboiler.ie