Your hot water cylinder is one of the key components to the heating of your home. With the life expectancy of hot water cylinders ranging from 20 to 40 years needing to replace them has become less common, however, for older homes it may be time for a replacement.
The cost of a hot water cylinder replacement in Dublin depends on several factors including the type of upgrade you are looking for, the age of your home and any additional work that may be required.
At Fit My Boiler we will provide you with a professional reliable service at an affordable price and aim to have your hot water cylinder replaced ASAP.
Why should you replace your hot water cylinder?
Older hot water cylinders or those that have taken a lot of wear and tear can cost your home money, do not perform to the highest standards and lose a lot of heat due to poor insulation.
Age, poor maintenance and bad design are the three primary causes for the need to replace your hot water cylinder.
You should get the full life expectancy of your hot water cylinder if it is maintained by a professional plumbing team, such as the team at Fit My Boiler, but should you need a replacement, do not hesitate to call.
Save on your bills and improve your home's heat retention with a professionally installed hot water cylinder. The cost of your hot water cylinder replacement will be quickly offset by the savings you make on your home heating bills.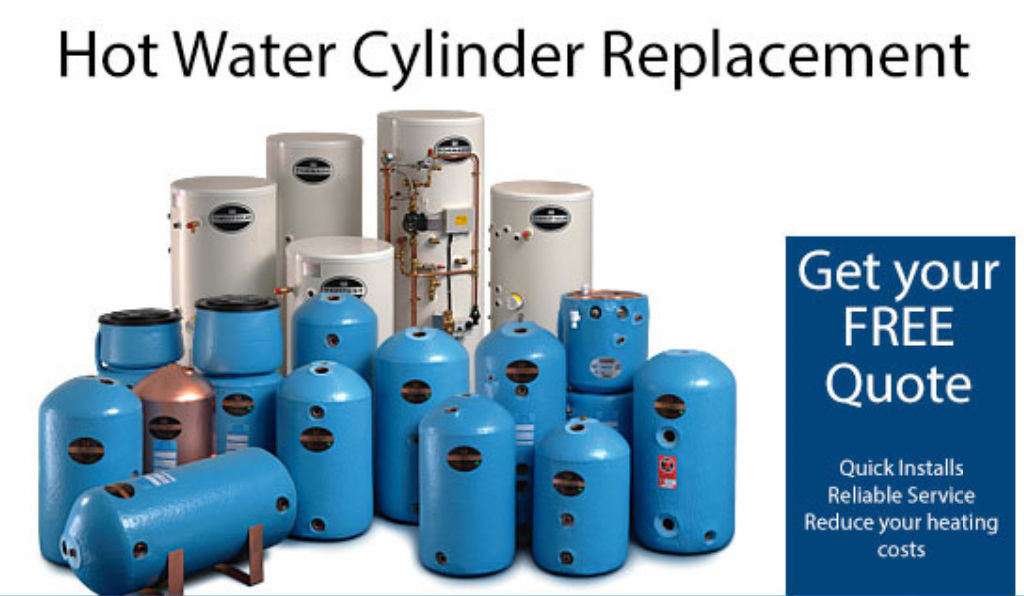 How will you know when it is time to replace your hot water cylinder?
If you use your boiler regularly and start to notice that it takes far longer to heat up or if your hot water runs out after a short period of time, it will need replacing.
This is because the insulation mechanisms are no longer working, and you are losing far too much heat. Firstly, this puts more pressure on your system as you have to reheat the water pressuring and already aged unit and secondly this reheating will cost you in terms of fuel costs.
This is a major problem in older homes across Dublin and Fit My Boiler continues to repair and replace hot water cylinders across the city.
Why not repair my hot water cylinder?
You may be wondering why most, if not all, plumbing companies in Dublin will not repair your old hot water cylinder.
This is not a big scam, and we'll tell you why.
A lot of older units' spare parts simply are not on the market anymore, they are costly and difficult to source and also just a short-term fix
The costs associated with older models will far outweigh any benefits so it's better to replace these units
Fit My Boiler will assess the age and cost of repairing your hot water cylinder before suggesting a replacement. If we can do it at an affordable rate and if it will have longer-lasting results, we will be happy to repair your unit.
Ok, so tell me the cost of a hot water cylinder replacement in Dublin?
For a free quote on the cost of your hot water cylinder replacement you can fill out a form on our site or get in touch with the team via mobile or email.
Replacement costs depend on the type of boiler you need, our availability and your budget.
We do not want to over or underestimate costs, so we take each on a case-by-case basis.
What we can guarantee is an affordable, professional and reliable repair and replacement service. Call direct on 0862447399, email info@FitMyBoiler.ie or complete the submission form.